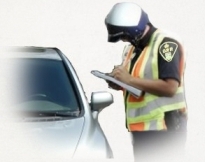 Fight Your Ticket
Everything you need to know about your traffic ticket is here.
On the left is information about your options, the insurance impact, demerit points, the amount of your fine and whether any errors on your traffic ticket will get your charge thrown out.
The steps above teach you how to successfully fight traffic tickets issued by police or by-law officers in any Ontario municipality. You can win if you know how to do it. This site shows you! Learn how to beat charges like:
speeding;
parking tickets;
failing to obey signs;
red light tickets;
stop sign offences;
seat belt violations;
careless driving charges;
failing to remain at the scene of an accident; and
all other Ontario traffic offences.
There are also additional tips on the left for the most common type of offences.
You can fight your traffic ticket. You can win. This site will help you do it.