Driver - no seat belt
To successfully challenge a seat belt ticket you must either create reasonable doubt about whether you were wearing your seat belt or mount a due diligence defence. If you don't know what this is, read Step 5 which provides considerable detail on the subject.
You must chose either the reasonable doubt or due diligence defence. You cannot do both. The first argues that you were in fact wearing your seat belt. The second argues why you should not be convicted for not wearing your seat belt.
Reasonable Doubt
Reasonable doubt requires a credible explanation why the officer mistakenly thought you were not wearing your seat belt when in fact you were.
Perhaps you had taken your seat belt off to exit the vehicle or reach for something. In Tassone cited above, the court ruled that there are reasonable points where someone can do this. The defendant claimed he took his seat belt off to reach for his wallet at a red light. That's when the officer saw him without the seat belt. He argued that he would have put it back on but was stopped and charged instead.
While the court believed his story, he was still found guilty. In this case the court found that he had his seat belt off for too long, that the engine was running and a red light is not the most appropriate place to take off your seat belt. He was therefore guilty of the violation.
This ruling provides a good guideline as to what the court considers reasonable. The defendant failed to raise reasonable doubt.
Example
Here is an example that might raise reasonable doubt. As most seat belt violations occur while the vehicle is moving, the officer has only moments to determine if a seat belt is worn. Generally the officer is looking for the diagonal strap across your torso. It is much easier to observe than looking for a dangling belt in the narrow space between your shoulder and the interior side of your vehicle.
The pictures below show examples of how the officer could be mistaken. In both pictures the same person, wearing the same clothes, is wearing a seat belt. In one picture you can clearly spot that the seat belt is on. In the other, you could mistakenly think the seat belt is not worn.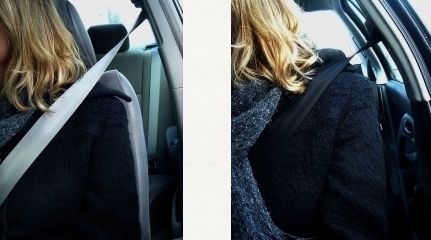 The pictures were taken in different vehicles. The location and height of the seat belt assembly will vary from one vehicle to another. In one picture the color of the seat belt closely matches the color of the coat making it hard to see up close. From a distance it would be virtually invisible.
---
KARMA:
What goes around comes around. If this site is helping you, please consider giving something back.
---
Do the physical characteristics of your clothes, your vehicle's interior or the color of the seat belt assembly hide your seat belt to the outside observer? The officer will likely not remember what you were wearing nor will he remember the color of the belt or the interior of the vehicle. Use this to your advantage to argue that the seat belt would not be visible to the casual observer under those circumstances.
But you still must explain why your seat belt was off when the officer reached your vehicle. Perhaps you took it off with the intention to exit the vehicle to see what the officer wanted?
The act of taking off your seat belt requires simply pressing the release button and the belt will slide back. You can do this easily without looking and barely moving your arm. This exerts much less effort than if you were to put on your seat belt. That requires a sweeping arm motion from shoulder to lap which the officer is more likely to observe.
As he approaches your vehicle he is looking to see if you try and put your seat belt on because he thinks you are not wearing it. He would not be looking for you taking it off. Since this is a relatively small movement. He could not observe this very well as he approaches.
Due Dilligence
A due diligence defence has to credibly explain:
why you were not wearing your seat belt,
the diligent steps you took to avoid not wearing a seat belt, and
that you believed you were in fact wearing your seat belt.
The best ruling on fighting a seat belt ticket is Kanda cited previously. It is instrumental in establishing your defence. Read this case carefully.
Also study Gupta which is an example of the application of Kanda where the defendant failed to raise a due diligence defence. He did not show that he took all the reasonable steps a normally diligent person would.
In order to raise this defence, you must first cite Kanda and point to the language of s. 106 to show that there is no explicit wording establishing the offence as an absolute liability charge. You therefore can mount a defence of due diligence.
You must state that you always wear your seat belt. You know how important it is to wear your seat belt at all times. It is very simple and straightforward thing to do which prevents serious injury. It is in your interest to always wear a seat belt. You wouldn't wear a seat belt only when you think you are going to get in an accident. You cannot anticipate accidents. A prudent person would always were a seat belt because you never know when you might get into an accident. That's why you always wear one.
Your vehicle may have a seat belt warning light and/or a buzzer. Some modern vehicles continue to sound the warning intermittently as you drive if a sensor detects weight on a seat without the matching seat belt fastened.
This is a safety feature in case you are forgetful. Perhaps you rely on this feature. Perhaps this feature was not working properly on the day you got your ticket.
Or perhaps something unusual occurred. Something out of your normal routine. You always get in your car, close the door, fasten your seat belt and start the car. Perhaps you then had to take the seat belt off to attend to something. You forgot something in the back seat or trunk. Or you were going through a drive through and had to remove it to reach the pick-up window. A momentary forgetfulness that resulted in you driving unaware that you were not wearing your seat belt.
A morally innocent person should not be convicted of a strict liability offence. You must take great steps to show that you are morally innocent. The examples above are just the start of the argument you must present. Clearly the examples will raise questions. Why didn't you notice the seat belt light on your dash board?
Some car models are prone to warning light failure or display warning lights continuously even though there is no hazard to the engine.
An example is many Volkswagon vehicles older than five years. Unless this costly and unnecessary repair is done, over time drivers become "immune" to the warning light. In other words they are used to seeing it and no longer take notice of it. The strange thing is that the warning light may not be constantly on but may appear intermittently over time. The driver could have mistaken the "seat belt" warning light for the "check engine" warning light and ignored it. Having a repair history or trouble shooting guide will further advance your defence.
Credibility
You must be extremely careful not to stretch the bounds of credibility. You must be believable. You must show that you are morally innocent. You must not convey that you are just reaching for an excuse to get you out of the ticket but in fact an injustice would occur if you were convicted.
In Tassone notice how there were inconsistencies in the defendant's testimony. If he was reaching for his wallet, why did it take so long? He provided an excuse why his seat belt was off but nothing else.
Diligence requires conveying an awareness of what you are doing, realizing the consequences of the prohibited act, a desire to avoid the prohibited act and the detailed steps you took to do so. You can't simply provide an explanation why you were not wearing your seat belt. You must do more. Only then will you successfully argue a due diligence defence.